I started this feature here at ASR in order to know your fellow bloggers a little better! If you are interested in being featured please fill out the form.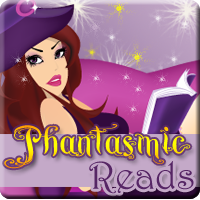 This week we've got an awesome bloggy friend of mine! 
Meet Reanna!
*waves* I'm a 43 year-old lady living in the southwest suburbs of Chicago. There are three handsome young men who call me Mom, and a beautiful little girl who calls me Nana. 
How long have you been blogging? What made you want to start a book blog?
I've only been blogging since late January, so I'm still pretty new at this. I've been a reader my whole life, and one day while poking around Goodreads, I saw some amazing blogs out there. I had been considering blogging for a couple years, but hadn't come up with something that fit me. Seeing those book blogs just made something click, so here I am!
What do you do when you're not blogging or reading?
There's life outside blogging and reading? *laughs* I really don't lead that exciting of a life. I work, I sleep. Every once in awhile, my guy and I sneak off for a day at the casino. I still haven't decided if it's a good thing or a bad thing that we live near so many casinos!
I used to cross-stitch and crochet, but I gave up a few years ago. Maybe I'll pick them back up one of these days. 
What is your favorite part about blogging? Least favorite?
My favorite part would have to be meeting all the wonderful bloggers and authors I've 'met'. This community is so welcoming. It's nice to share my love of books with others!
It's not a least favorite, but blogging is a lot of work! I had no idea what I was in for, but I do enjoy it…most days. :)
Where did you come up with the name for your blog?
It just sort of happened. Someone at work suggested something about phantasms, and I thought Phantasmic Reads sounded good!
Do you have any specific book bloggers that inspire you?
I have a ton of respect for several bloggers. There are so many wonderful blogs out there, and I think they all inspire me in some way. I just want to make my little corner of the blogosphere something special, and there are some pretty big footsteps to follow in these days! 
What do you look for in a blog when following? What are your pet peeves?
I like finding blogs that have similar tastes. I also love finding bloggers who have a fantastic voice. But these aren't 'must haves' to get me to follow. I'm not super-picky. And I don't have any major pet peeves when it comes to blogging. At least, not yet. :)
What's your favorite book(s)?
It's not possible to list them all. Harry Potter tops the list, along with the Dresden Files by Jim Butcher (he needs to write faster!), the In Death series by JD Robb, the Iron Druid Chronicles by Kevin Hearne, the Charley Davidson series by Darynda Jones, the Hollows by Kim Harrison (I dread the end of this series), and the Mercy Thompson series by Patricia Briggs.
Favorite author?
Again, it's not possible to list them all. I'll forget half of them if I try!
What is the biggest turn off for you when you're reading a book?
Insta-love can be a little annoying. And whiny heroines drive me nuts.
What first draws you to a book to make you want to read it?
It all depends. Mostly, I'll see a title and/or a cover that intrigues me, and I'll check out the blurb. Strong heroines are always a big pull for me. Sexy male leads don't hurt, either. :)
Describe yourself in 3 words.
Boring. Introvert. Bookworm.
[Jessi] I don't think you're boring!! :)
Do you have a job? If so, what do you do?
I'm currently working two jobs, both in accounting. I've been doing accounting work in one form or another for about twenty-five years. That's longer than some book bloggers have been alive!
What did you want to be when you were little? Has that changed?
At one point, I wanted to be a lawyer. But I don't handle speaking in front of crowds well, so that dream went *poof*.
Randomness 
 Cats or dogs? 
I've owned both at one time or another. I think if I had the opportunity, I'd want at least one of each now.
 Favorite animal? 
Any large cat – lions, panthers, tigers, etc.
 White, dark, or milk chocolate? 
Umm…not dark :)
 Coke or Pepsi? 
Neither. I'm not a dark cola girl. Give me a Sprite any day!
 Favorite TV show? 
Charmed (I'm a total addict!); M*A*S*H; and my guilty pleasure is Braxton Family Values.
 Movie? 
There are so many! The original Star Wars movies, The American President, and My Fellow Americans are ones I can watch over and over.
 Color? 
Purple.
Thanks for being here today, Reanna! It was great getting to know you! :)
If you guys don't already follow her awesome blog, you should go check it out! 
Find Reanna:
Blog | Goodreads | Twitter | Facebook | Instagram | Pinterest 

Related Posts