I started this feature here at ASR in order to know your fellow bloggers a little better! If you are interested in being featured please fill out
the form
.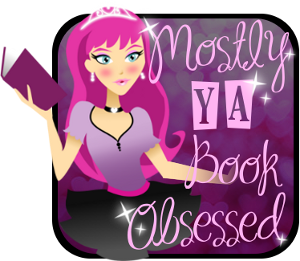 My name is Nereyda (I guess the easiest way to pronounced it if you don't have a Spanish accent is Nu-ray-duh) and I am the blogger behind Mostly YA Book Obsessed. I'm 26 years old, I have two daughters (ages 5 and 2), I have my degree in Fashion Design and I am currently working as an Assistant Technical Designer for a women's clothing company.
How long have you been blogging? What made you want to start a book blog?
I had been a silent observer (stalker) of blogs for almost a year and I was just fascinated by how awesome all these blogs are. I kept thinking, "I think I could do this" and last December I finally gave in and created my blog. I've been blogging for 11 months. I also blog over with the awesome girls at
YA Bound
.
What do you do when you're not blogging or reading?
Unfortunately with a full-time job and family, I don't have much reading time. I do read every week day during my lunch hour and I try to read a little bit before going to sleep at night. My weekend are crazy busy and I hardly ever get any reading done. When I'm not reading I'm usually either working (or pretending to work), cooking, cleaning, helping with homework, or putting my kids to sleep. All that good stuff.
What is your favorite part about blogging? Least favorite?
My favorite part about blogging is finding books that I would probably not have heard of otherwise. Especially Indie books. Before blogging, I had no idea what and Indie book was and now I am kind of obsessed with them. I also think it's so awesome that I have become friends with some amazing authors and bloggers. My least favorite part is the drama and jealousy over ARCs.
Where did you come up with the name for your blog?
I had first named my blog Book Obsessed, then quickly found out there were a ton of other blogs with the same name. I didn't want to change it completely so I just added the Mostly YA part because I like to read different kinds of genres.
Do you have any specific book bloggers that inspire you?
What do you look for in a blog when following? What are your pet peeves?
I look for diversity. I like a good mix of Indies and "mainstream" books as well as a good mix of different genres. When I see a review that everyone else is reviewing, I might skip it. I love to read reviews of books I might not have heard of yet. I'm not that picky but it gets on my nerves when some bloggers focus on a lot on getting ARC's.
What's your favorite book(s)?
Cruel question. My all time favorite book is Truly Madly Yours by Rachel Gibson.
Favorite author?
Again, cruel question but my favorite author is Rachel Gibson. Richelle Mead, Chloe Neill, Cassandra Clare, JLA, Becca Fitzpatrick and Jana Oliver all some of my favorites too.
What is the biggest turn off for you when you're reading a book?
Cheesy dialogue. For some reason, it drives me nuts when I read the word "baby" or "boo". I can't help the automatic eyeroll.
[Jessi] Ewuh, me too. Cheesy romance makes me wanna ralph!
What first draws you to a book to make you want to read it?
I hate admitting this, but it's the cover. *hides in shame* But ultimately the book description is what determines if I will read a book or not. I've read books with drool worthy covers that have been huge let downs and amazing books with a less than stellar cover.
Exactly! Some of my favorite covers were on some of my least favorite books!
Describe yourself in 3 words.
Weird, nice, mean. (I'm like Dr. Jekyll and Mr. Hyde)
Name a random fact about yourself.
OMG, there are so many…
I like to cuss. Like a lot!
I'm super short, 4'10 ½".
I am super picky about food. It annoys people of how picky I am.
Dude, me too! The picky part, I mean. (Well, okay, the cussing too.) I'm short but not THAT short :p
Do you have a job? If so, what do you do?
I'm an Assistant Technical Designer for a catalog clothing company. Basically, I take care of all the background work before a garment is ready to be sold. I have to measure and fit garments on a fit model and sure they fit correctly. If they don't, I correct the pattern and they fix the garment and send it back to us. Once a garment looks and is measuring good, then it is approved to be sold online and in catalogs.
What did you want to be when you were little? Has that changed?
I wanted to be a Fashion Designer.
Yes it has changed. I now realize how hard that goal was and I am much better at the production and development aspect of the fashion industry.
Randomness
Cats or dogs?
Um, not really an animal person…I like looking at them and petting them, I just don't want one.
Favorite animal?
Any baby animal is super cute!
White, dark, or milk chocolate?
Milk chocolate!
Coke or Pepsi?
I HATE soda!
Favorite TV show?
Hart of Dixie, Vampire Diaries, Nikita, Gossip Girl. I was also super obsessed with General Hospital. (before it went down the drain)
Favorite movie?
Crazy, Stupid Love
Color?
I always say pink but it's actually black. I just think it makes me sound morbid and depressing so I stick with pink. (I actually really do love pink, but black is my favorite)
Thanks for being here, Nereyda! It was fantastic getting to know you!


Find Nereyda:
Related Posts